Professor Uche Amalu is the Deputy Vice Chancellor, University of Calabar, Nigeria and  Professor of Soil Science and Sustainable Agriculture.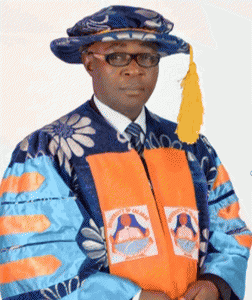 He will be speaking on "Benefits of Sustainable Land Management"
In our era of escalating crisis and economic downturn, where the 2007-2008 food crisis is now a dormant but "forgotten crisis" and where governments are striving to implement bailout policies with little attention to the potentials of land and soils, it is of crucial importance to highlight the "Benefits of Sustainable Land Management" policies. Desertification, land degradation and drought affect more than 2 billion people and the situation might worsen due to the unsustainable use of soil and water under present scenarios of climate change. The UNCCD 10-year strategy points out the importance of science, knowledge sharing systems and awareness raising to support policymakers in reversing this trend. Sustainable land management practices, including sustainable agriculture, provide important local, regional and global Foreword Global Facts Drylands: a special concern 2.6 billion people depend directly on agriculture 52% of the land used for agriculture is moderately or severely affected by soil degradation 4-6 million ha of cultivated land are lost annually due to anthropogenic soil degradation Cropland in developing countries decreased from 0.43 ha to 0.26 ha per capita in the period form the 1960s to the 1990s 1.2 billion people live in areas where physical water is scarce 41% of the Earth's surface area is drylands 2.6 billion people (44%) are affected by desertification Population growth was 18.5 % in dryland areas in the 1990s The GDP in dryland areas is 50% lower than in non-dryland areas Natural regeneration of vegetation cover and soils in arid areas takes 5-10 times longer than in favourable areas with greater and more regular rainfall. Benefits of Sustainable Land Management benefits. They also contribute positively to fundamental ecosystem services such as regulating water cycles, sequestering carbon, and helping to preserve agrobiodiversity.
Prof. Joshua O. Ogunwole is Vice Chancellor, Bowen University, Iwo, Nigeria and a Professor of Applied Soil Physics &Environmental sciences.
He will speak on Soil Management for Sustainable Intensification
One of the fundamental lessons learned through the past half century of agricultural research is that there are no "one size fits all" best management practices. The interaction of different soils with different cultures in different climates results in the need for unique approaches to sustainable agricultural systems in each situation. The transition to systems that are both sustainable and sufficiently intense to support the increasing density of human population will be faster or slower depending on the resources available. The ease of this transition will also depend on how far down the road to resource degradation and unsustainable intensification a particular system has already gone. Although there are no easy short cuts to this transition, we can avoid the mistakes of the past and build on experiences with successful systems. This paper focuses on certain principles of soil management that have wide, although not universal, applicability and can help guide the transition to sustainability. Major goals that need to be addressed by soil management approaches include: 1) conservation and efficient use of water resources, 2) prevention of erosion and soil degradation, and 3) enhancement of nutrient cycling. If we examine sustainable approaches to meeting these goals, we will see that there is a common thread involving the management of soil organic matter. During the past half century agriculturalists allowed the immediate effectiveness of modern agricultural inputs such as fertilizers and pesticides to somewhat divert their attention from the need to manage soil organic matter. More recent experience and research have brought us back to the realization, shared by earlier generations, that soil organic matter management is a key factor in achieving successful long-term sustainability.